BUYING A WATERFRONT HOME!
WHY? Most clients prefer waterfront and don't even realize it. For example, after showing one couple over 50 homes, they fell in love and purchased a waterfront home that did not meet their initial specifications. When we asked why this was the home for them, they said they loved the lake and the spectacular view. They did not realize until they actually saw it. We have never forgotten that lesson. It is not unusual to change or overlook your dream ideas if you find a waterfront home with a great view. We will keep your best interests in mind!

Here are some other items to consider when purchasing a waterfront home:
TERMINOLOGY: What you must know about lakefront advertising!

LAKEFRONT: This means the house/land has a body of water, a lake, touching the property. You must see it! It could be muddy, no lake view, wetlands, beachfront, boatable or not. Don't assume it is a beautiful lake view and sandy beach front.
WATERFRONT: This could be a river, stream, canal, creek, ocean, pond, or any body of water that your land is directly or indirectly on (ex. across the road frontage). Make sure you know the boundaries of the waterfront.
ALL SPORTS: The water or lake will accommodate all types of motorized or non-motorized boats (watercrafts) regardless of speed or sound.
WATERVIEW: You can see the water or lake from some point of your land or house. This could be only from top floor or even your roof top. Your view could also be mostly blocked by other houses or trees. Make sure you check the view and make sure it is what you want.
LAKE PRIVILEGES: Under certain circumstances, such as association dues or partial-full home ownership, you could have use of the lake. Watch for clauses that might limit your use to so many days, certain hours during a week, or certain times of the year.
SHARED WATERFRONT: This means you have some use of the water along with others. This could be one or one-hundred users. Make sure you understand the parameters of when you can or cannot use the waterfront.

PROS OF BUYING A WATERFRONT PROPERTY:

USUALLY A GOOD INVESTMENT: There is limited availability so your investment will always increase over time.
FUN ACTIVITIES: There are countless watersports that you and your family can enjoy from all types of boating, skiing, swimming, fishing, ice-skating, and more.
VISITORS: If you like having your friends and family over, that will be a given for entertaining. People love to visit or enjoy the entertainment of waterfront homes. The sunsets and sunrises will impact your visitors forever.
SECOND HOMES: Many buyers will only buy their up-north, second-home or cottage if it is on a lake. This is because of the investment value and the fun activities that are available. It is like a vacation home.
NIGHTLIFE: If you like to party, boaters are naturally party people. If there is a restaurant or bar nearby on the water, it will become a huge gathering place for the boaters in the area.
YOUR NEIGHBORS: It is fantastic to go boating and see the numerous homes on most big lakes. These homes can vary from 1000 sq. ft. cottages to the mega-mansions well over 4000 sq. ft. You will have the opportunity to meet many of your water neighbors at school events, local restaurants, marinas, and association meetings.
INTANGIBLE BENEFITS: You will be living with fresher air and will enjoy numerous other health benefits such as reduced stress levels, increased physical activity which can lower your weight and increase your energy level, and sounder sleeping. Your family time will also improve. There is nothing better than living where you love the area and the views. You and your kids and pets will enjoy a whole new lifestyle.
PRIVACY AND WILDLIFE: If you are fortunate enough to have some land with your lakefront, you will enjoy nature like never before. The lake itself will give you a lot of privacy, and you will see wildlife that you will never see in city life.
SUNRISES AND SUNSETS: The views over the water can be spectacular. Most prefer evening shade, so look to see where the sun rises and sets. This is a benefit that most people overlook.

THE CONS OF OWNING WATERFRONT PROPERTY:

UPFRONT COST: Your initial investment can be substantial.
MAINTENANCE EXPENSE:

Inside: tracking of sand and water into the house.
Outside: the humidity and outside elements will continually cause breakdown of surface materials on your home.
Storms and natural disasters: these weather-related issues can create extra outside problems to the house and landscaping.
Insurance: flood insurance may be needed and can be costly. An upcharge for possible hurricane insurance is also possible.
Docks, retaining walls, and beaches: water will constantly be wearing away at these surfaces and will need extra expense to maintain.

ANIMALS, CRITTERS AND INSECTS: depending on the area, there are all kinds of animals that are often unique to lake living such as turtles, beavers, fox, deer, snakes, mosquitos, geese, etc. Be prepared to enjoy living with these animals.
NEW CONTRUCTION EXPENSE: depending on the type of soil on your land, the foundation could be more expensive.
TAXES: because your home value will increase annually, the taxes will also rise. Make sure this fits into your budget.

MUST KNOW BEFORE BUYING:

SURVEYS AND TESTS: Surveys of lot lines, water quality, tests, elevation certificates, perc and septic tests, etc. Make sure you do all of these tests before you buy. You do not want any costly surprises afterwards.
LOCATION of house compared to the shoreline:
Shorelines move over time. Make sure you understand the natural erosion, the flood zone, and if you will need a seawall. You can check the history with the neighbors or your local library.

A GREAT INVESTMENT: Overall, your property will increase in value because of the limited amount of waterfront property available. National average shows annual increase of 4% compared to 1-2% for land living. Also, if you do not live in the house year-round, lakefront homes are easily rented. This can usually more than offset any expenses related to living on a lake.

NOTHING BEATS LAKEFRONT LIVING
We will help you find the perfect
Waterfront Home within your budget.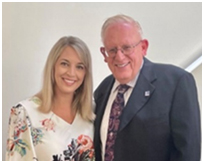 Call for your appointment TODAY!
Larry and Kristina
248-917-2323